Professional Mold Removal in Charleston and the Surrounding Area
Have you recently dealt with water damage and are worried about mold forming in places you can't see?
Are you concerned about the air quality and health of your home?
Have you tried various methods to get rid of the mold but it keeps coming back?
Most people struggle with how to respond to mold and indoor moisture issues. Because of this uncertainty, many people take an "Ignorance is bliss" approach. This approach, however, leads to issues becoming progressively worse. When this happens, insurance companies deny claims because the insured did not attempt to mitigate damages in a timely manner.
Disaster Plus helps remove the stress of not knowing what to do by providing solutions 24 hours a day, 7 days a week.
In addition to accessing a live person 24/7 and providing on-site assessments, we also accept pictures, videos, FaceTime calls, etc. documenting your areas of concern, so that we can provide you with answers fast!
Our certified and highly-trained mold remediation technicians quickly identify and safely remove harmful mold from your property. With over 35 years of experience serving the Greater Charleston Area, our family-run business has the expertise, systems, and latest technologies needed to make sure your issue is addressed in the most professional and efficient manner.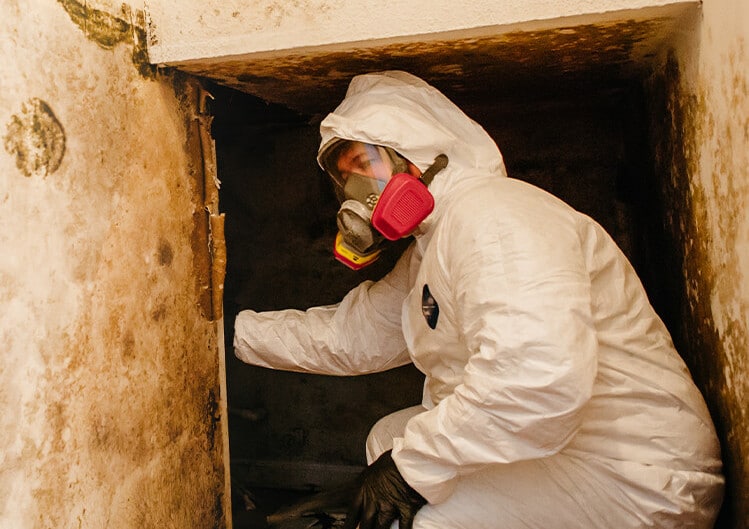 Tearing out mold contaminated materials such as sheetrock, floor boards, and other affected items will cause particles to be released into the air and spread throughout the premises which can lead to even greater problems.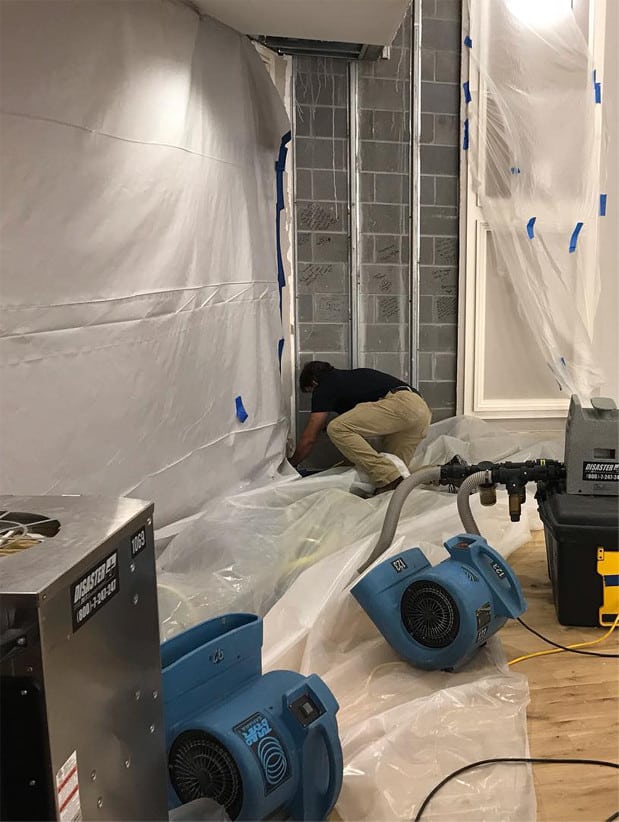 Along with immediately setting up containment separating the affected areas of the home or business from the unaffected areas, we utilize air scrubbers to remove any loose particulates in the air.
We also use negative air machines on larger projects. Negative Air Machines are designed to filter air on job sites including Construction, Mold Remediation, and Painting. They can be used to set Negative or Positive Pressure Isolation rooms and are useful for containing airborne contaminants such as: Dirt, Dust, Drywall Dust, Sawdust, Metal Fumes, Smoke, Molds, Fungi and other Hazardous Materials.
We always keep your
safety in mind and make
sure the job is done right.
Providing Mold Remediation in Charleston SC, Mt. Pleasant, and the surrounding Lowcountry
Check out some of the images we captured from mold removal projects in the lowcountry
Disaster Plus has a certified Applied Microbial Remediation Technician on staff that performs pre-inspections of possible fungal contamination. This inspection consists of thorough moisture detection and a visible inspection of potential contamination. Any analysis and sampling from these inspections is deferred to a CIH (Certified Industrial Hygienist) of the client's choosing*.
*Disaster Plus does not recommend or affiliate itself with any firms or laboratories to prevent any claims of impropriety.
*Disaster Plus does not recommend or affiliate itself with any firms or laboratories to prevent any claims of impropriety.
Pre-Remediation and Post Remediation Testing
We require that the property owner or management firm solicit the services of a Certified Industrial Hygienist to perform pre-remediation testing, develop a scope of work to be followed, and perform post remediation testing to ensure that the building is safe for occupancy. Mitigation services are performed per IICRC S520 guidelines – the standard reference guide for professional mold remediation.

From the very first phone call to the moment they drove away I was so glad I called this company. You can tell that they go through a lot of training on how to handle and talk to people under stress. I hope I never need their services again but if I do, I will call again in a heart beat.
Angela C., Homeowner, Summerville, SC

Associations and Affiliations